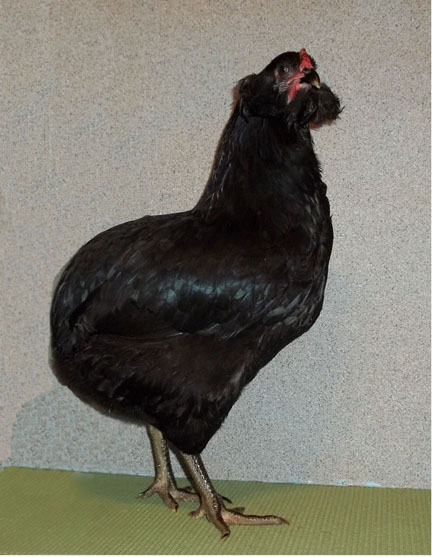 Photo taken, October 4, 2013, right after she was Reserve Grand Champion Bird in Show at Pine Bluff.
Black Araucana Hen (LF)
Top Show Bird!
This big gorgeous Araucana hen is "Chanel" and she is one of the top Araucana hens in the country. She was my winningest show bird last Fall. Her wins include: 1) Reserve Champion Large Fowl - Yellow Show & Champion AOSB - Blue Show at Baton Rouge, Louisiana, Gulf South Fall Classic, November 9, 2013 - 2) RESERVE GRAND CHAMPION OF SHOW, SouthEast District Fair Show, Pine Bluff, Arkansas, October 3, 2013. - 3) SUPER GRAND CHAMPION OF SHOW, Louisiana State Fair Show, Shreveport, Louisiana, November 2, 2013. Chanel is a big hen, she was 4 pounds at point of lay. Her tufts are huge and balanced. She is one year and 3 months old, and is just starting her first adult molt and looks a bit rougher than this picture which was taken 10/4/2013. She should be ready to go back to the fall shows and win for you. I have not had any luck with her in the breeding pen over the last few months so I make no guarantees as far as fertility. She sells as a show bird. She lays beutiful eggs. Wing Band #259. As usual, I can make no guarantees once she leaves here. Price $350.00. Express Mail shipping, and box is an additional $65.00. She will ship as soon as possible, weather permitting.